Introducing Wharf Studio & Lynne: A Passionate Self-Taught Fine Artist.
Wharf Studio is a haven for creativity nestled on the North Cornwall coast in Bude. Led by Lynne, a self-taught fine artist with an unwavering passion, our gallery offers captivating commissions and immersive art workshops. Explore Lynne's versatile artworks, from surfboard art to breathtaking paintings, and unlock your artistic potential in a supportive and inspiring environment.
Commissions
Unlock your imagination and bring your artistic vision to life with Lynne's commissioned artworks. With her keen eye for detail and collaborative approach, Lynne ensures a seamless and personalised experience. From conceptualising innovative ideas to working from your cherished photographs, she will guide you through the creative process every step of the way. See the section below for surfboard art commissions!
Surfboard Art
Experience the extraordinary fusion of art and sustainability with Lynne's captivating surfboard art. Each piece represents a metamorphosis, as retired surfboards are lovingly transformed into stunning works of art. Combining her passions for creativity and recycling, Lynne breathes new life into these weathered boards, infusing them with vibrant colours and captivating designs. Embrace the spirit of adventure and coastal beauty.
Prints
Capture the beauty of Lynne's remarkable artwork with our exquisite fine art giclée prints. Each print is meticulously reproduced on archival heavyweight paper or canvas, ensuring the longevity of its timeless charm. With top-quality materials and inks guaranteed to endure for over 200 years, these prints become cherished heirlooms that embody the essence of Lynne's original masterpieces.
Tuition
Join our "Painting and Prosecco" workshops, held monthly at our waterside studio in Bude, where you'll explore new techniques while indulging in a glass of bubbly. Or immerse yourself in the captivating world of watercolours during our popular drop-in workshops on Thursday mornings at Neetside Methodist Hall.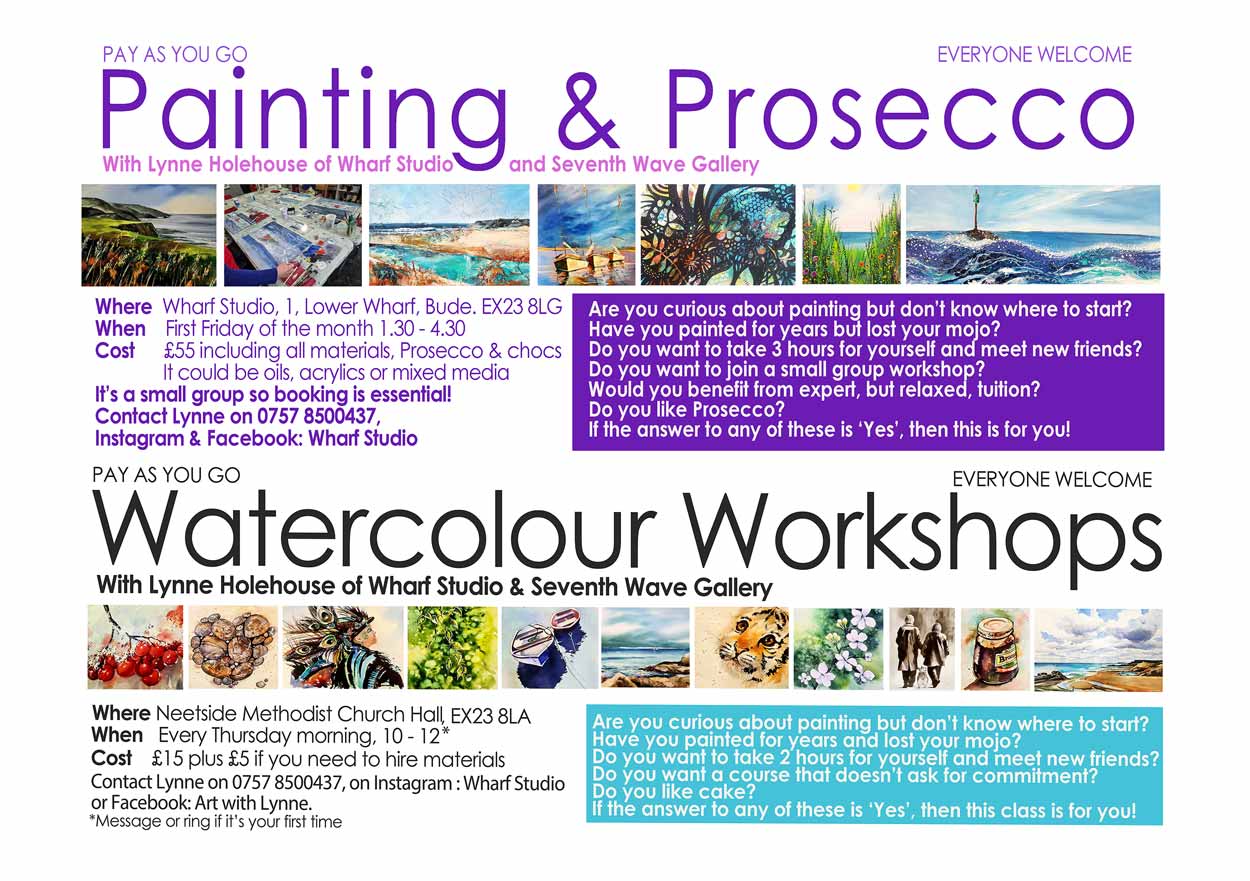 Gallery
Discover the paintings by Lynne, a versatile artist who works with watercolours, acrylics, oils, and mixed media. Her diverse creations adorn wood, canvas, surfboards and rag paper, each brushstroke capturing a moment of beauty. Visit our gallery where each piece tells a unique story or why not visit Lynne and Martins other gallery – Seventh Wave Gallery.
Get in touch
Ready to embark on your artistic journey? Contact Lynne at Wharf Studio today to explore commissions, workshops, and more. Bring your artistic vision to life!